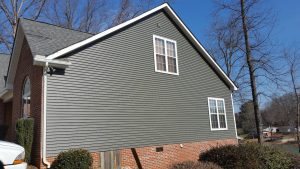 If your current siding is looking worse for wear, or if you are completing exterior renovations on the outside of your home, you may be wondering if vinyl siding is everything that they say it is. In fact, vinyl siding offers a number of advantages for homeowners, including improved energy efficiency once installation is complete. Here are three more key advantages of adding vinyl siding to your home:

•   Versatility – One of the best features of vinyl siding is that it comes in an array of colors and styles that allow you to truly match your personality and style. Your home's exterior will look great and be a reflection of your family inside.
•   Cost – If you are on a budget, vinyl siding is often a cost-effective route for upgrading your home's exterior. You can choose the style you want and have it installed without worrying that you've maxed out before you've begun.
•   Maintenance – If you hate outdoor maintenance, like cleaning gutters and blowing leaves, you are in for a nice surprise with vinyl siding. Virtually maintenance-free, this solution for your home's exterior allows you to enjoy a long-lasting finish without the hassles.
At Crown Builders, we are your go-to siding installers when you have chosen vinyl siding as your exterior remodeling siding of choice. Our superior workmanship, fair pricing, and great reputation in the Charlotte area will tell you that you don't need to go anywhere else. Contact us today to learn more about your options. We'll be happy to assist you.