Some people believe vinyl siding doesn't have the quality appearance found in cedar siding, but they wish cedar siding had the other benefits of vinyl siding, such as low maintenance, low cost, and resistance to termites. If you're one of those people, vinyl cedar shakes are the answer!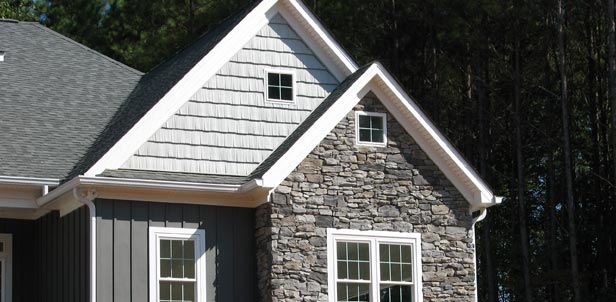 Vinyl cedar shakes give your home the authentic look and feel of cedar shingles without the maintenance and hassle. They are also less expensive than cedar and come in lots of styles and colors, including hand-split shakes, rough sawn shakes, scalloped shakes, and more. Vinyl cedar shakes can be used as a covering for your entire house, or simply as an accent to other types of vinyl siding. They are less expensive, in both materials and labor, than real cedar siding.
With vinyl cedar shakes, you'll also never need to paint or stain the siding to get the perfect color—you can pick it out before installation! The same color will run all the way through the board, too, so you won't have to worry about unsightly scratches or chips revealing a different color underneath.
The siding contractors at Crown Builders would love to install vinyl cedar shakes on your Charlotte, North Carolina home and tack on a lifetime transferrable warranty. Give us a call today to request a quote for your project!
Vinyl cedar shakes give you the authentic look of cedar shingles without the maintenance.
Lower cost than cedar
Lots of styles and colors
Expert installation
Hand-split shake
RoughSawn
Scalloped
Lifetime transferable warranty
---
For all your vinyl cedar shakes needs please contact Crown Builders in the surrounding areas of Charlotte, Huntersville, Concord, Gastonia and Mooresville, NC.