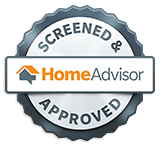 Visit Our Showroom
Appointments 704-375-2665
Crown Builders
3111 Monroe Road
Charlotte
,
NC
28205
United States
Telephone:
(704) 375-2665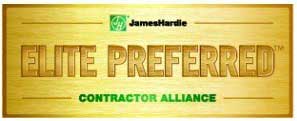 CROWN BUILDERS, Charlotte's most trusted source for siding, windows and roofing.
When it comes to your homes exterior needs there's only one choice – Crown Builders.
Charlotte's proven leader in the exterior home improvement industry
Using only the highest quality materials & labor available, paying special attention to "The Details"
1st class customer service from start to finish
 Our commitment to service continues years after the install
 Locally owned and operated
 Proven track record with over 17,000 satisfied customers
 With low cost word of mouth advertising, we pass the savings to the customer
 Professional office staff and service
At Crown Builders in Charlotte, North Carolina, we have the solutions that will make your old, worn-out house look better, feel better, and function better than you thought possible. We offer new windows, HardiePlank® siding, vinyl siding, professional roofing services, and more that will make your home the envy of the neighborhood. Crown Builders has satisfied over 17,000 customers in the Carolinas for 28 years. At Crown Builders, quality workmanship is our main focus backed by our industry leading 10 year workmanship warranty. Crown Builders professional window installers, siding contractors and roofing specialists are here to install energy efficient windows, window replacement, James Hardie® fiber cement siding, Hardieplank® siding installation, vinyl trim, vinyl siding installation, roofing and roofing installation as well as decorative, maintenance free trim and accessories. Whether you need window replacement, new roofing, roofing replacement, installation of vinyl siding, HardiePlank® siding, vinyl cedar shakes, or if you want to add a little flare to your home exterior with decorative, maintenance-free trim and accessories, you can have peace of mind knowing your home will receive only the best when you choose Crown Builders. Crown Builders services the greater Charlotte, NC area. Contact us today to receive a free estimate for your new windows, roofing, or siding, or click here to request one online. Crown Builders offers windows and window replacement, roofing services, vinyl siding,  vinyl cedar shakes, HardiePlank® Siding and hardieplank installation, vinyl trim as well all forms of decorative, maintenance free trim and accessories. Call today to get a free estimate or click here to get a free estimate online.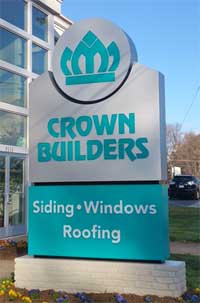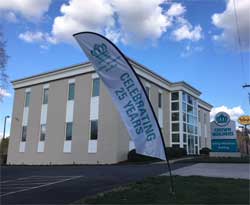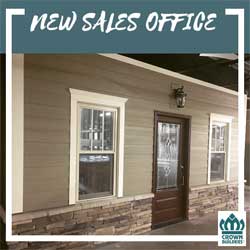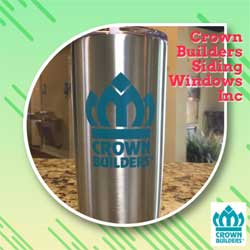 Crown Builders replaced the old windows in my home with new energy efficient vinyl windows. I love these windows. Crown sold me a great product at a fair price. The salesperson Daryl Pittman was patient and knowledgeable. Overall Crown was a pleasure to work with. – Barbara D –
The people who work at Crown Builders were great, provided great service and quality, and follow up well. Frank, Kevin and Tara were great. I've already recommended Crown Builders to a friend and a co-worker of mine who is working on his house. – Jonna S –
Everyone did an outstanding job. I would like to mention my window installers Bobby and his crew for the extra effort they put forth that day. Not only the windows but the installation of my front door and the French doors. I have already told several of my friends about the job that has been done and shown before and after pictures of my home. Daryl Pittman himself came to my door to inquire if I had any thoughts about repairs to my home. The rest is history. We now have a home to be proud of again. Also I'm sure the neighbors enjoy the view as well. – Rick P –
Crown Builders crew is very dependable. They worked hard from sunrise to sunset and most importantly, everything was done right. It was completely stress-less on my part. -Tiffany T-
Our roofing job looks great. We got good advice about the type of shingles – which were the best value, etc. The people at Crown were helpful and let you know they were here to please and make sure things were done the right way. The price for the work was very fair – the best of anyone we talked to. I feel very good about what they did for us. – Roofing Testimonial 2 –
Why Choose Crown Builders?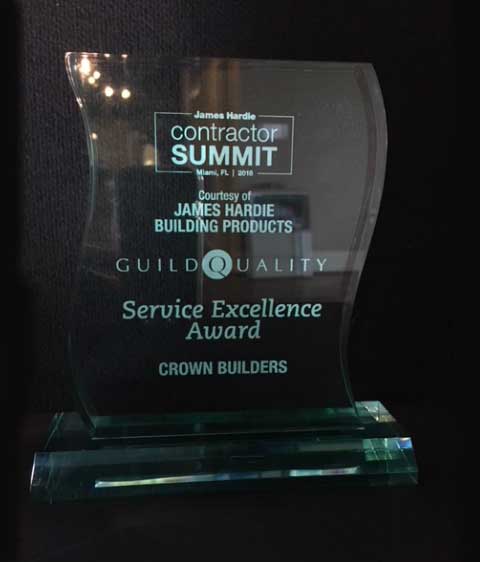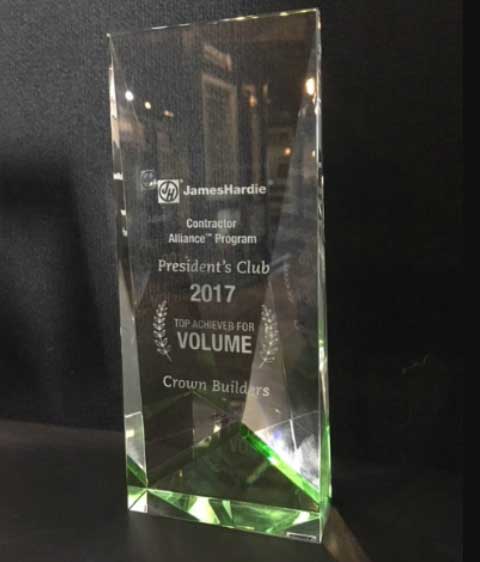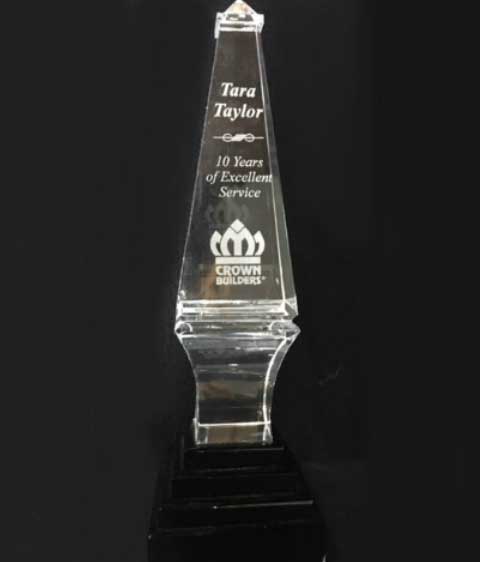 10 years of Excellent Service