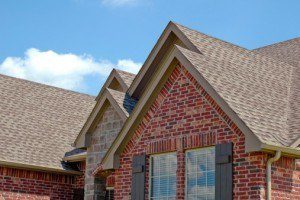 With the majority of the cooler weather behind us, conducting a seasonal check up on your shingles is a great way to prepare for the warmer weather.
Maintaining your roof's shingles may top the list of crucial home updates. Shingles kept in good condition mean that you, your family and all of your valued belongings are kept safe and dry. Any damage or signs of wear can call for immediate action to keep moisture from getting in and under your shingles and causing further damage to the wood structure beneath them. If your roof is over 20 years old and most of the shingles are very visibly damaged, then it is most likely time to replace your roof.
Balding shingles are a good indication that you will need to replace your roofing. When shingles wear, they lose their granules (the sand-like texture). One indication of this shedding can be found when inspecting the rain gutters. If you find a substantial amount of these granules in your gutter, it is a very good indication that your shingles need to be replaced.
Cracked, broken or missing shingles are also signs that your roofing needs to be replaced. Broken or missing shingles greatly affect a roof's ability to shed water. This can lead to leaks, furthering the damage to the inside of your home.
Bent, warped or buckled shingles can also be a good reason for roof replacement. These shingles are highly susceptible to wind and ice damage, compromising your roof system's ability to keep the structuring underneath it free from moisture.
If you are questioning whether your shingles need replacing, give us a call at Crown Builders. We pride ourselves on work well-done and aim for complete customer satisfaction. When you select Crown Builders as your roofing company, you can rest assured that you are getting only the best in materials and workmanship with all the roofing services we offer in Charlotte, NC.
Save