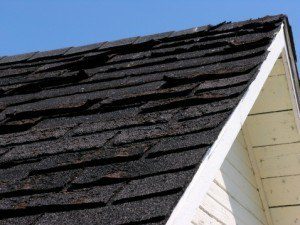 After a long winter, it's time to make sure your roofing has withstood the colder weather. With the additional moisture and colder temperatures, your roofing can often become damaged or worn. Following these quick instructions may mean the difference between water damage to your home and a dry attic.
When looking for damaged roofing, you can start on the inside of your house. Grab your trusty flashlight and head to your attic.
The first things you will be looking for is sagging in the roof deck and any signs of water damage. Mildew, condensation, dark water-staining and water trails are all good indications of a possible deficiency with your roofing. Perhaps a more obvious and startling indication of a failing roof might be outside light showing through a hole in your rooftop.
When doing an exterior check of your roofing, you first want to check for the obvious. Are there any bald, cracked, torn or missing shingles that are visible?  Check for any loose material around vents, chimneys, skylights, pipes or other penetrations.
You can do a visual check by looking into your rain gutters. If you find an excessive amount of shingle granules in your gutters (they look like sand), then there is a good chance that you have substantial deterioration on your roofing. You can ensure the longevity of your shingles and roofing by ensuring that all of your rain gutters are kept clear from debris and are efficient with moving water.
If you are questioning whether your roofing needs replacing, please give us a call at Crown Builders. Our roofing experts always install our roofs and shingles according to manufacturers' specifications. We pride ourselves on work well-done and aim for complete customer satisfaction.
Save