With vinyl trim, you can eliminate the worry of damage to your home's exterior trim work.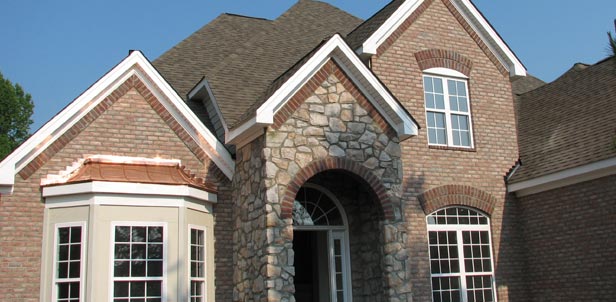 Here at Crown Builders, we do a lot of work with siding. Our popular products include both vinyl siding and HardiePlank siding. While many of our customers are well educated on the benefits of vinyl siding, the types there are, and even the costs they should expect, not many of our customers realize that we can give them the same positive aspects of vinyl siding in the trim work for their Huntersville, North Carolina home. That's right– vinyl trim is the next step in making your home's exterior surfaces virtually maintenance-free!
When you come to us at Crown Builders for vinyl trim, the only thing you'll be concerned about is why you didn't make this choice sooner! Vinyl trim allows for you to have beautiful trim on your home, but without the worry of wood rotting due to wind, water, or pests. Instead, you'll have a product in vinyl trim that nearly perfectly mimics wood trim, but without all the hassle of wood trim and at a very affordable price point as well.
With many different vinyl trim products, including soffits, gable trims, doorframes and trim, window trims, and so much more, you'll be able to use vinyl trim on any style of home and have it look and function beautifully. If you are looking for vinyl siding or vinyl trim, our team here at Crown Builders is here to help you! We have 28 years of experience making customers happy in Huntersville and surrounding areas and would love to have you join our list of clients. Contact us today for more information.
---
For all your vinyl trim needs please contact Crown Builders in the surrounding areas of Charlotte, Huntersville, Concord, Gastonia and Mooresville, NC.