Get siding installers like ours who will do a great job with quality materials.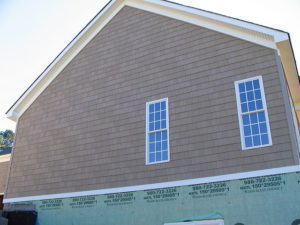 Siding is one of the most popular choices for a home's exterior. After all, what's not to like? Siding is very durable and able to withstand direct sunlight without fading, it can take strong winds and hail without damage, it is impervious to both pests and water, and it doesn't ever need painting! If you're looking for an attractive and maintenance-free material for your home, you can't go wrong with siding. However, just like you have chosen a material for your home carefully, you should also choose your siding installers carefully. Here in the Huntersville, North Carolina area, you can't go wrong choosing Crown Builders as your siding installers of choice. There are many benefits of choosing our team at Crown Builders for your siding installers, just some of which include the following.
Experience– We have 28 years of experience as siding installers and would love to show you what our siding installation can look like as a finished product. Because of our experience, you can also expect your installation to be completed in an efficient and professional manner.
Quality- We don't believe in using shoddy materials or shoddy workmanship here at Crown Builders. We prefer to leave happy customers who are excited about the work we have completed for them, and that's why we always work with quality products and craftsmanship.
Value- You get a great price for our siding installers. Because so much of our advertising comes from happy customers telling their friends, we can slash our advertising budget and pass those savings along to you.
For a great value and other benefits of siding installers, contact us at Crown Builders today.
---
For all your siding installers needs please contact Crown Builders in the surrounding areas of Charlotte, Huntersville, Concord, Gastonia and Mooresville, NC.