Choose James Hardie colors for siding that stays bold and true in all types of weather.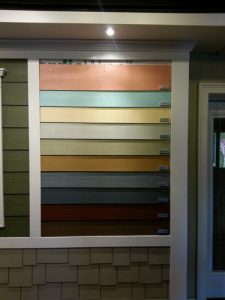 The exterior of your home is what people see when they first pull up to the driveway, and one of the most dominant features of your home's exterior is the material that you choose to clad your Huntersville, North Carolina home in. Here at Crown Builders, we have a variety of products that will enable you to have a stunning first impression of your home while also enjoying a maintenance-free lifestyle. With HardiePlank siding, you get the benefits of siding with specialized James Hardie colors for your siding color choices.
James Hardie colors differ from other types of siding colors in that they are rich, deeply ingrained, fade and weather resistant, and specially formulated for regional-specific wear. When you come to Crown Builders, we can show you our wide variety of James Hardie colors and even give you some choices that could work with your home style. The final choice, however, is always up to you!
With James Hardie colors, you don't have to worry if your tastes run bold and dark for your home colors. While other dark colors might show fading after a few years in direct sunlight, with the specially formulated James Hardie colors, you can look forward to years of rich, bold colors that look as great as the day you first installed them.

If you are interested in HardiePlank siding with James Hardie colors for your Huntersville, North Carolina home, we would love to talk to you here at Crown Builders. With our 28 years of experience and 11,000 satisfied customers, you simply can't go wrong!
---
For all your James Hardie Colors needs please contact Crown Builders in the surrounding areas of Charlotte, Huntersville, Concord, Gastonia and Mooresville, NC.